Post by Stormrider on Jan 20, 2009 19:01:43 GMT -6
From: Storrmrider (Original Message) Sent: 6/24/2003 12:06 AM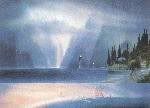 The Grey Havens
Copyright John Howe
All Rights Reserved
www.john-howe.com
After the Battle of Bywater, the hobbits held captive in the Lockholes were released and tended to. Lobelia was given a huge welcome and she was very touched by that. Will Whitfoot needed recuperation and Frodo became the acting Deputy Mayor in his place. Meanwhile, Merry and Pippin hunted out the remaining ruffians and showed them the borders. Sam was put in charge of restoration of Hobbiton and the surrounding Shirelands.
Sam remembered his box from Galadriel and opened it to find it was filled with a grey dust and a small silver nut-like seed. He decided to use it sparingly and planted a single grain of dust at the root of the saplings he was planting throughout the Shire. He planted the silver nut in the Party Field where the old Party Tree had been.
In the Spring, Sam was very surprised to so how quickly his trees grew-in one year's time they grew to what they would be at 20 year's time! A mallorn tree grew from the silver nut. It had silver bark and long leaves and it burst into golden flowers in April.
1420 in the Shire was a very plentiful, rich, productive, and prosperous year. The children born and begotten that year were fair to see and strong, and most of them had a rich golden hair that had before been rare among hobbits. The fruit was delicious and plentiful, the Southfarthing leaf was astonishing, the corn harvest stuffed the barns, and the Northfarthing barley was very fine and the 1420 malt was memorable.
Sam, who had been staying at the Cottons', got well acquainted with Rosie and asked her to marry him. Sam was torn between Frodo and Rosie, but Frodo solved that problem and asked them to move in with him at Bag End. They had their first child, a daughter, the following year and named her Elanor after the tiny golden flowers found in the grass of Lórien.
Frodo continued to have reoccurring spells of pain and dark memory flashes. He hid them from his friends as well as he could. He took to a quiet life and began to write in the Red Book after he resigned the office of Deputy Mayor after Will Whitfoot was well.
Merry and Pippin were very dashing with their songs, tales, and mail-shirts and shields. The folk gave the two admiration and respect. They also approved highly of Sam. The folk did not give any honor to Frodo nor did they wish to know of his deeds.
Finally, Frodo summoned Sam and asked him to accompany him on a trip to go see Bilbo for his 131st birthday, which surpassed the Old Took! Before they left Bag End, Frodo showed Sam that he had finished his entries in the Red Book of Westmarch. He then gave it to Sam and told him, "The last pages are for you."
On the road, Sam and Frodo met many fair Elven folk including Gildor, Elrond, and Galadriel. Elrond openly wore Vilya and Galadriel, Nenya. Bilbo rode slowly behind them on a small pony. Suddenly, Sam realized they were going to The Grey Havens to depart Middle-earth. Frodo reminded Sam that he had been too deeply hurt. Frodo also comforted Sam with the many things Sam would be needed for and the fine family that would surely come to him.
Círdan the Shipwright met them at Mithlond and Gandalf was also awaiting them there wearing Narya. Sam was very sad but Merry and Pippin rode up laughing and joking. The three travelers stood quietly as the white ship set sail and vanished in the West. Silently they returned home and then went their separate ways.
Sam is greeted at the door by Rosie, the evening meal, and little Elanor and he has returned and will continue on with his life.